July 2019
On RDMís 15th birthday we arranged a day of celebrations for children from lesser privileged backgrounds. The kids were given free access and a tour to the museum. We arranged for story telling sessions and ended the day with cake cutting celebrations.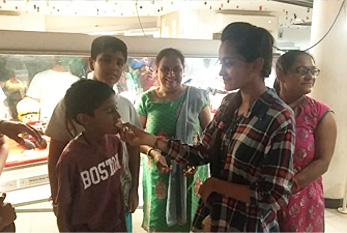 Mathamagician Workshop
Regular academics can get mundane for kids. RDM organised a learning workshop on mathamagician where kids learn tricks they can easily remember and implement in their daily learnings. The workshops aimed at fuelling their curiosity in the field of mathematics.
Magic Mania workshop
Kids are ever curious and eager to learn. RDM called a certified magician to show and teach children everyday magic tricks which they can practise and improvise. The kids were given magic kits from which they could create 15 different tricks.
Lego Workshop
Lego toys have been known to promote dexterity, problem solving and physical development amongst kids. We organised a Lego building workshop where kids were given tasks to be built in groups. The children learnt about teamwork, communication and problem solving skills.
Science is Life Workshop
Our previous yearís ĎScience is Lifeí workshop was a success. We thus organised another workshop where kids could learn fun tricks involving scientific methods. Through various activities like how baking soda can erupt from a volcano, kids learnt about science, geography and physics all in one.
Christmas 2019
On Christmas eve, RDM organised a fun fair for kids wherein children could meet and greet Santa Claus. They could indulge in a fun evening of watching a movie, jumping on a trampoline and be enchanted by stories from a professional storyteller.† As a way to enhance the childrenís creativity, RDM organised a one-day workshop on making your own Christmas tree.
Marathon 2019
The Rajkot Municipal Corporation hosted the annual Marathon 2019 on December 30th 2019. RDM was again a cheer point at ground level to help boost the morale of the runners. This year we invited Gujaratís leading all female folk group dancers to do a traditional sword dance.
Story telling
Stories are ways of fuelling the kidís imagination. They also help in developing their public speaking abilities. RDM organised a story telling workshop where kids had to choose a character form a story and enact the story in a group, thus further enhancing their ability to work in groups.
Marble art
Painting and colouring begins for kids at a very young age. There are more than a hundred ways to paint. RDM aimed at introducing one such art form of marble painting. In this workshop, kids poured oil colours over water in a tray and spread the colours using a hair dryer. They would later capture this abstract art on a paper by placing it over the water surface. They learnt how different density liquids can also convert into art.