July 2018 – Save the Girl Child rally
On the occasion of Musuem's 14th birthday, RDM organised a 'Save the Girl Child' rally for Rajkot city. All kids were invited with their parents to take part on a short walk from the city's centre park upto the museum. Here parents were to walk hand in hand with their children and raise awareness by participating in various games held by the RDM. More than 5,000 people participated in the rally.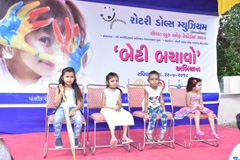 November 2018
To increase the awareness of people towards the rights, care and education of children we celebrated Children's Day at RDM. We organised a Drawing competition on the theme 'Fantasy World'. The kids were provided with drawing sheets and colours by the museum. The winners were given educational books as rewards.
December 2018
Kid's mental wellbeing and sessions on good touch & bad touch Sparsh

It is important to teach kids about their privacy and body space in a safe environment so they can respect their peers and report abuse in an unknown environment. These talks can sometimes become overwhelming for the kids so it is important that they are taught to differentiate between good touch and bad touch in an appropriate manner. RDM organised weekly sessions for the month of December for parents and their children to attend together to learn more about their bodies and human interactions in a safe and guided environment.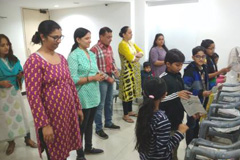 Christmas 2018
On Christmas eve, RDM organised a fun fair for kids wherein children could meet and greet Santa Claus. They could indulge in a fun evening of watching a movie, jumping on a trampoline and be enchanted by stories from a professional storyteller.
18 May 2019
International Museum Day
Rotary Dolls Museum organised a 'Showcase your collection' on International Museum Day to increase awareness about museums and showcase their importance. Kids of all ages were encouraged to set up their booths and display items that they have been collecting over the years. 50 kids participated and showcased various collections of coins, teddy bears, miniature toys,shells and cars.
Summer Workshop 2019
Continuing what has now become a synonym with summer break in Rajkot city, RDM once again successfully hosted the annual 'Rotary Dolls Museum Summer Camp 2019' from May 7th to 31st May. WIth over 400 kids, we organised a summer filled with new learning and discoveries in the form of artwork, magic lessons, folk dancing, fireless cooking and pottery.
Mandala art workshop
Mandala art is an ancient Indian art form which uses geometry to create scintillating designs. For the first time in Rajkot, RDM organised a special workshop on this difficult artform for children.
Mathamagician Workshop
Regular academics can get mundane for kids. RDM organised a learning workshop on mathamagician where kids learn tricks they can easily remember and implement in their daily learnings. The workshops aimed at fueling their curiosity in the field of mathematics.
Magic Mania workshop
Kids are ever curious and eager to learn. RDM called a certified magician to show and teach children everyday magic tricks which they can practise and improvise. The kids were given magic kits from which they could create 15 different tricks.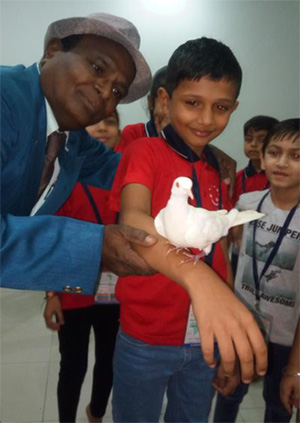 Lego Workshop
Lego toys have been known to promote dexterity, problem solving and physical development amongst kids. We organised a Lego building workshop where kids were given tasks to be built in groups. The children learnt about teamwork, communication and problem solving skills.
Caring Citizen Workshop
It is important that our kids grow up in a world that is kind, caring and empathetic towards all. It is always the small things that brighten our days. RDM organised a 'Caring Citizen' workshop which touched base on how each one of us can brighten the lives of those around us in tiny but important ways. Kids were taught the importance of forming good habits like holding the door for the person behind you, throwing garbage in proper trash cans and many others.
Science is Life Workshop
After our hit Mathemagician workshop, we were overwhelmed with requests to host a similar workshop for science. We thus organised a workshop where kids could learn fun tricks involving scientific methods. Through various activities like how baking soda can erupt from a volcano, kids learnt about science, geography and physics all in one.
Yoga for Youngsters Workshop
India is one of the founding fathers of yoga. Yoga helps to keep one fit, physically and mentally. It is important that kids learn to inculcate this habit from early days. RDM organised a special Yoga for youngsters to teach kids easy yoga asanas the kids can learn and practise daily like pranayam and sun salutations.
Joy of Giving Charity Event
'It is in giving that we receive' - aka the Joy of Giving was organised to instil in children the importance of sharing and helping those less privileged than them. Children were encouraged to bring the books, clothes and toys they owned that they could share kids who would have derived more joy from them. Children were then taken to lesser privileged areas and they exchanged their possessions and played with kids. The museum also provided snacks for all children.